This post was originally published on
this site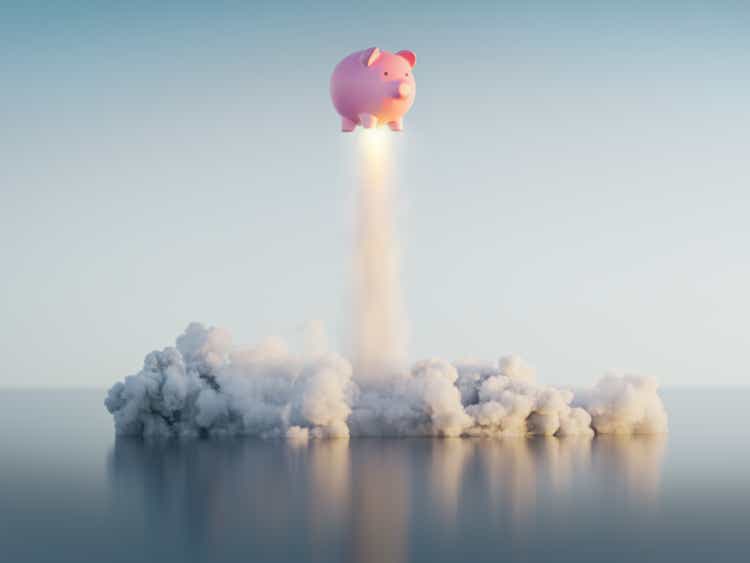 Co-produced with Treading Softly.
Mike Tyson famously said that "Everyone has a plan until they get punched in the mouth."
The idea here is that a theory or plan works great in the conceptual stage, but reality has a way of coming out and disrupting or obliterating the best theories in no time flat.
Business Development Companies ("BDCs") often lend to businesses at a variable rate while using fixed-rate debt to fund these investments. Thus, logic argues that as rates rise, their profits should rapidly expand. Makes sense on paper, right?
Yet when it comes to cold hard reality, other factors can come in and pound down the performance of a BDC – fears over a recession, future rate cuts, or bankruptcies in their portfolio can lead to their share price selling off strongly. Rate hikes often precede a coming recession as rate hikes cool economic activity. So there is a "Goldilocks" timeframe where BDCs see rising income and performance before the floor falls below them.
2023 seems to be this "goldilocks" time period where rates are hiked and are still likely to move slightly higher, yet the economy has not yet buckled from the increased strain of higher interest rates.
So today, I want to look at two BDCs with plenty of room to climb higher before rates fall and their share prices get hit in the teeth again.
As always, we only share our trades in real-time with High Dividend Opportunities members, so when we decide it's time to check out, they will be notified immediately.
Let's dive in.
Pick #1: SLRC – Yield 11%
SLR Investment Corporation (SLRC) struggled with dividend coverage in 2022. Management kept reassuring investors that they were on the path to covering the dividend, but it wasn't covered by NII (Net Investment Income) in 2022. This is perhaps a major reason why SLRC has traded at a large discount to book value.
Management told us at Q3 2022 earnings:
"The combination of portfolio growth, merger synergies, and the increase in yields will drive solid growth to our net investment income and we therefore expect to cover our distribution for Q4."
This is a promise we intended to hold management's feet to the fire on, and they delivered. Q4 2022, SLRC covered its dividend with $0.41 ($22.5 million) in net investment income. With 54.55 million shares outstanding, it takes about $22.37 million to cover the dividend. Coverage is very tight, but the dividend is covered.
The challenge that SLRC has faced since COVID is their leverage. Not leverage that was too high, but leverage that was too low! During COVID, SLRC's leverage declined to 0.56x equity. A level that was not sufficient enough to support the dividend. In Q4, SLRC got leverage up to 1.08x equity, a level in the middle of their 0.9x-1.25x target range. Importantly, SLRC has room to leverage up a little more as opportunities present themselves.
Black swans like COVID create difficult situations for management. SLRC's reliance on equipment leasing and financing has historically been a very stable strategy with very low defaults. Similarly, the ABL (asset-based lending) segment focuses on credit lines for funding sales orders. These loans are highly secured, so defaults are low even during recessions. COVID created a new issue – the sudden and complete halt in many businesses. Companies no longer needed to lease equipment because they weren't even open. SLRC didn't experience credit issues; their challenge was a lack of demand for their services.
Management had the option to cut the dividend; likely, nobody would have blamed them. Instead, they opted to maintain the dividend and, for the past three years, worked to rebuild the business.
Now, SLRC is a bit different than it was pre-COVID. It is more diversified as the merger with sister company SUNS brought in more traditional style cash flow loans. These loans are secured by a company's cash flows, not tied to particular assets or equipment. Yet, ABL and equipment loans remain SLRC's largest segments. Source.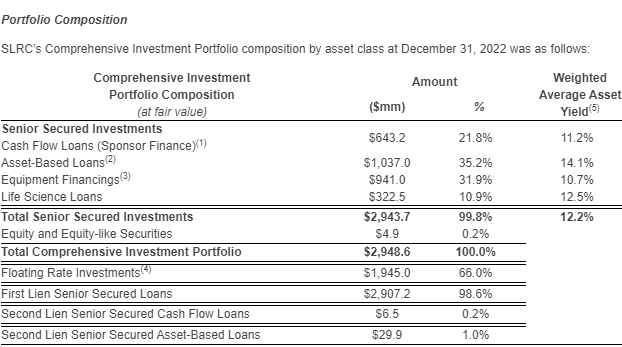 This diversity will certainly help out in another COVID-like event, while at the same time, the credit quality of SLRC's portfolio remains very strong. Their investment ratings are shown below. 4 means the loan is underperforming and losses are expected, and 1 means that the borrower's metrics are better than they were at underwriting. Every loan starts out at 2, which means performing as expected.
With over 98% of SLRCs portfolio performing as expected or better than expected, SLRC is not showing some of the credit stress we've seen with other BDCs.
SLRC went through a tough period and failed to cover its dividend following COVID. Management opted to continue paying the dividend anyway, maintaining an income for shareholders, confident that in time earnings would rise. Now the dividend is covered, and with a very positive environment for BDCs, we expect that coverage will continue to grow as the year goes on.
We can enjoy a high yield and can appreciate shareholder-friendly management that decided to keep the income flowing through the tough times.
Pick #2: TPVG – Yield 14%
TriplePoint Venture Growth (TPVG) absolutely smashed Q4 earnings. Sometimes there is a significant disconnect between the market's perspective and reality. The market puts on its fear goggles, and everything it sees is something to panic about.
For TPVG, the fear was Medly Health which filed for bankruptcy quite suddenly in December after the founder stepped down amidst financial "irregularities" and improper activities conducted by employees, including the founder. Management refused to state more, citing it as an ongoing legal matter. While the legal drama around Medly might drag on, TPVG has put the matter behind it. They have fully written off the investment except for the DIP (debtor in possession) loans used to fund the bankruptcy, which were repaid to TPVG subsequent to quarter end as Walgreens bought the assets.
Bad investments happen. Sometimes they are ones that you "should have" seen coming. In this case, you can't protect yourself from a bad actor. All business transactions require some trust that the other party is acting in good faith and will follow the law. But as we know, sometimes people don't. This is why it is important to diversify your portfolio, as some things cannot be detected until it is too late.
Fortunately, TPVG has a diversified portfolio. The Medly write-off had an impact on book value. Source.
Yet, NII came in at $0.58/share, a new record for TPVG. TPVG raised its regular dividend by 8% to $0.40/quarter. It also has $0.64/share in "spillover" income. This is taxable income that TPVG has not yet distributed and will support future regular and supplemental dividends.
TPVG has a diverse portfolio with debt investments in 57 companies. It also has warrants and equity positions in 107 and 48 companies, respectively. These are companies they are currently lending to, as well as prior borrowers.
These equity positions have the potential to create a significant upside and help TPVG recover its book value. In the past, TPVG has seen its equity positions realize significant gains. Most recently, TPVG realized $6.5 million in gains from their ForgeRock investment selling shares in Q4.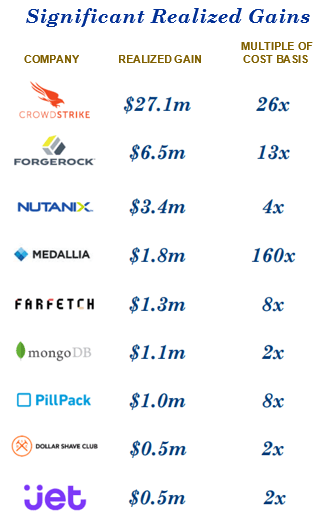 The market saw the impact of Medly Health filing bankruptcy and panicked as if Medly was TPVG's only investment. Yes, it isn't fun when an investment completely blows up and becomes a near-zero. That's why we diversify our portfolios, and that's why TPVG diversifies its portfolio. Nobody can see the future, and some investments simply are not going to work out. That is ok.
TPVG absorbed the hit to book value, and it is still generating more income than it ever has before. The dividend was raised to new heights, and there is a solid cushion of spillover income which increases the likelihood of a supplemental dividend sometime this year.
Medly is now in the past; the loss is realized. TPVG has a portfolio of equity and warrants which could help repair book value in the future. In the meantime, earnings are higher than ever with TPVG significantly out-earning even its newly raised dividend.
The market panicked in December and sold off TPVG. Looking in hindsight, we can see that was a clear overreaction.
TPVG sold off again when Silicon Valley Bank failed, creating a new buying opportunity. Talking heads were running around talking about how so many startups would fail without access to cash and how this was a "Lehman" moment. Yet, by Monday morning, the companies that had bank accounts with SVB had access to 100% of their money.
Not that a few companies being late on their interest payments would be devastating for TPVG. TPVG is in the business of lending to late venture stage companies – if they experience a cash squeeze, through no fault of their own, it means demand for TPVG's services increases.
Take off your fear goggles and focus on the income. Investors who were buying TPVG during the COVID collapse made out like bandits. The Medly issue was quickly over and TPVG hiked its dividend higher. The SVB Financial Group (SIVB) failure is similarly unlikely to harm TPVG's ability to pay a higher dividend.
Yes, it is true that businesses will face challenges. Yet the market's propensity to overreact to news items frequently creates an opportunity to buy the dip at much higher yields. While others are realizing capital losses out of fear, our income from TPVG is climbing!
Conclusion
Both SLRC and TPVG were heavily beaten down in 2022 due to various factors covered above. Today, they offer dirt-cheap valuations. Thanks to the fear in the market, we can invest at big yields and bargain prices. Even as their share prices are falling, their earnings power is rising!
While other investors are having a knee-jerk reaction to the news, take advantage of the opportunity to increase your income. This is an excellent time to reap large sums of income from various BDCs like SLRC and TPVG. At 'High Dividend Opportunities' we are buying more of these two stocks which are currently in our "model portfolio." Our model portfolio currently includes +40 high-yield stocks, with an overall average yield of 9.4%.
Being an income investor means understanding the conditions in which various investments thrive or struggle. Similar to growing a garden, some plants love the summer heat, while others thrive in the cool autumn weather. Knowing when to plant and harvest are important factors for a gardener to be aware of.
Likewise, income investors know that half the battle is understanding the market before planting your seeds. When you do know, you can enjoy a fruitful harvest of income and a bountiful retirement.