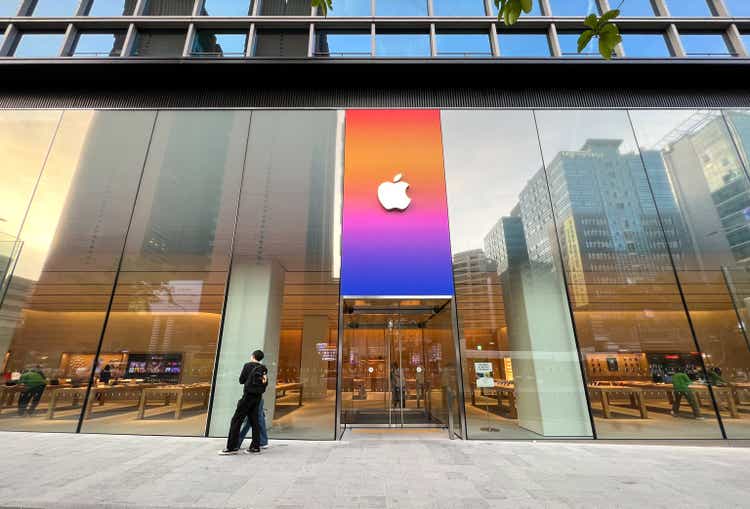 Apple (NASDAQ:AAPL) shares rose in pre-market trading on Monday as a few Wall Street firms said that tracking for the iPhone 15 Pro and Pro Max are "strong out of the gate."
Wedbush Securities analyst Dan Ives, who has an outperform rating and $240 price target on the tech giant, said that pre-orders are up between 10% and 12% year-over-year – as of Sunday night – and are "much stronger" than Wall Street expected.
"This is a clear positive for Apple with [average selling prices] set to be a major tailwind for Cupertino in this iPhone 15 cycle with our expectation of an ASP in the ~$925 range and up roughly $100 over the last 12-15 months given heavy Pro mix model shifts," Ives wrote in an investor note.
He kept his forecast for 85M iPhone units to be produced this cycle, with the possibility that could move to 90M due to carrier promotions in the U.S.
Ives added that the demand for the iPhone 15 Pro Max is "exceptionally strong" in the U.S., China, India and parts of Europe. In particular, India pre-orders may be up 25% year-over-year, while China is also seen as "strong out of the gates."
"We believe market share gains will remain steady in China from Apple with this iPhone 15 cycle despite growing Street skepticism," Ives explained.
TF International Securities analyst Ming-Chi Kuo was a bit more tempered in his analysis, though he pointed out that demand for the iPhone 15 Pro Max is "robust" and is pacing ahead of the iPhone 14 Pro Max.
He noted that demand for the iPhone 15 Pro is weaker than than last year, possibly due to more premium users switching to the Pro Max.
"Wait times for the iPhone 15 Pro Max are significantly longer than for other models, but this is more than just due to high demand," Kuo wrote. "Current iPhone 15 Pro Max shipments are lower due to a later mass production schedule, and its current production challenges are more pronounced than other models."
Though the Chinese government denied reports of an outright iPhone ban (it did, however, flag some security issues), Kuo said the reports are not "wrong," but could be easily misinterpreted.
"Currently, members of the Chinese Communist Party, government employees, and employees of state-owned enterprises aren't the iPhone's primary target customers," Kuo explained. "Moreover, the iPhone ban is an isolated decision by specific government organizations or state-owned enterprises, so the impact of banning iPhones from these reports on iPhone sales in China is not significant."
He maintained his estimate of approximately 80M iPhone 15 units to be shipped this year.
Delivery and shipment times have moved to early November from late October for a number of iPhone 15 Pro and Pro Max models. The new devices, announced earlier this month, are slated to go on sale on September 22.
More on Apple