This post was originally published on
this site
Avalanche price is up 5% in the last 24 hours to sell for $22.46 as of 1:20 AM EST. The token has doubled its value in November, moving from the monthly low of $11.44 to the current price.
It comes after Avalanche price broke out from a falling wedge pattern, giving 130% gains for traders who bought AVAX during the $8.61 dip.
$AVAX #AVAX +130% Profit so far Since the Wedge Breakout.. 🔥📈 https://t.co/yRIlKNwEPX pic.twitter.com/8V4GsWtgbj

— Captain Faibik (@CryptoFaibik) November 20, 2023
It comes on the back of multiple positive announcements in the Avalanche ecosystem as the AVAX network integrates with major institutions. The surge is also attributed to gaming and non-fungible tokens (NFTs).
The @avax super cycle is upon us. 🔺

A series of recent announcements, partnerships with major institutions, and a surge in gaming and NFTs have propelled $AVAX +130% in the past month.

A dive into recent developments and how to capitalize on this narrative. 🧵⬇️ pic.twitter.com/BmlSmhqUUg

— Emperor Osmo🧪 (@Flowslikeosmo) November 19, 2023
Avalanche Price Jumps As AVAX Network Partners With Institutional Players
In a recent announcement, investment banking giant, JPMorgan, revealed a collaboration between its blockchain division, Onyx and Apollo Global, geared towards introducing a proof-of-concept to use the Avalanche blockchain.
JP Morgan partnering with Avalanche is huge for not only $AVAX, but also for private and permissioned blockchains being interoperable with public blockchains. pic.twitter.com/p0Mwbyufxi

— Patrick Scott | Dynamo DeFi (@Dynamo_Patrick) November 15, 2023
Besides JPMorgan, renowned global bank, Citi, also adopted Avalanche's managed blockchain service, AvaCloud, facilitating rapid development, deployment, and scalability of customized decentralized networks for various applications.
With the integration, Citi intends to use the technology to develop an innovative blockchain-based application to price and execute bilateral spot foreign exchange trades.
Citi has tested the use of blockchain infrastructure to price and execute simulated FX trades on Avalanche Evergreen Subnets.

This Proof of Concept from @Citi is part of Project Guardian, a collaboration by the Monetary Authority of Singapore (MAS) & the financial industry. 🧵👇 pic.twitter.com/dVnmfG562r

— Avalanche 🔺 (@avax) November 16, 2023
Also, technology company Republic has partnered with Avalanche to premiere a digital asset called Republic Note (R/Note). The product is designed for profit sharing with the goal to democratize investing in the private market.
✨@republicnote could not have found a better blockchain for its projects than #Avalanche.

Republic Note is a product that @joinrepublic will use as an investment instrument.

They will offer investors access to private equity portfolios of 750… https://t.co/Pk4Z7miouA pic.twitter.com/AXUvYLOTpR

— citizenthree.avax 🔺 (@turkcrazy07) November 18, 2023
It comes as the Republic organization chases after the inherent strengths of the Avalanche blockchain, including scalability and speedy transactions. These are enablers to a seamless and cost-effective experience for R/Note holders. Moreover, the AVAX network's strategic partnerships with industry giants such as Amazon Web Services and MasterCard underscore its technical robustness as well as reliability within the blockchain realm.
Avalanche Price Prognosis As AVAX Doubles Down On Partnerships
Avalanche price is pumping hard after actualizing the falling wedge pattern with a solid breakout. This technical formation forecasts a bullish momentum. It forms when an asset's price bounces between two trendlines that are not only sloping downward with the intention to converge somewhere down the terrain.
The actualization of a falling wedge pattern executes a reversal. However, failure to actualize facilitates the continuation of the trend. Fortunately, it actualized for AVAX on the daily timeframe, sending Avalanche price north towards the supply zone extending from $26.56 to 30.89.
Increased buying pressure above current levels could see Avalanche price break past the lower boundary of the supply barrier at $26.56. However, to confirm the continuation of the trend, AVAX must record a three-day candlestick close above the mean threshold at $28.77, the midline of the supply zone.
Further north, a break and close above the $31.45 resistance level would render the supply zone an intermittent bullish breaker. In a highly bullish case, the gains could extend as Avalanche price fills the inefficiency represented by the Fair Value Gap (FVG) at the $40.00 psychological level. Such a move would constitute a 77% climb above current levels.
The Relative Strength Index (RSI) remains northbound even after breaching the 70 level. As AVAX is massively overbought, investors should brace for a pullback amid buyer exhaustion. That notwithstanding, perpetual traders with open long positions for AVAX should keep them open as the RSI's northbound move suggests Avalanche price could still rise.
However, late investors should not succumb to FOMO, and should overcome the urge to open new long positions as a correction may be underway.
Meanwhile, the Awesome Oscillator (AO) is showing green histogram bars moving in the positive territory. This shows the bulls are leading the AVAX market.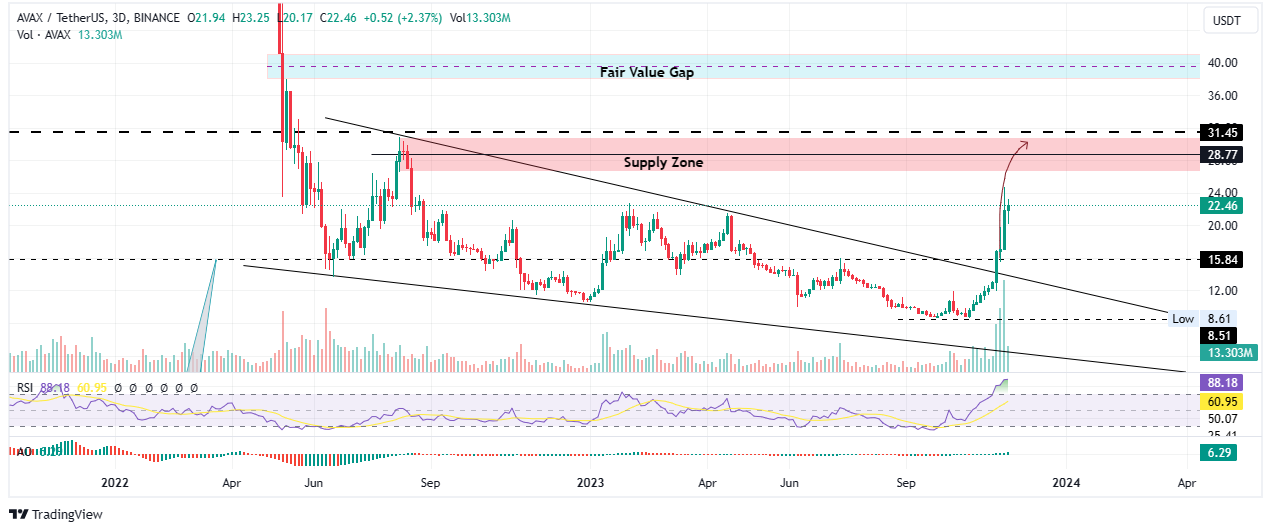 Converse Case
On the flipside, owing to the fact that AVAX is overbought, investors could give in to the profit-booking appetite, especially the ones who bought AVAX at the $8.61 local low. The ensuing selling pressure could see Avalanche price drop below the $15.84 support level, or lower, flipping the upper boundary of the wedge from a support into a resistance under the $12.00 psychological level. Such a move would invalidate the bullish outlook.
In the dire case, Avalanche price could extrapolate the slump below the $8.61 support floor, or in the worst-case scenario, extend to test the lower boundary of the wedge.
Meanwhile, a Rollbit (RLB) whale has found a presale with 100x potential: TGC. This is the powering token for Telegram casino project, TG.Casino.
A $RLB whale recently invested approximately $150K in @TGCasino_ , making a $50K purchase and staking it. View the transaction details here: https://t.co/xOmwQXqg3e Explore the investor's wallet funding at this address: https://t.co/PmRAWicLMd Notably, part of their Rollbit… https://t.co/rTb10zvSKd pic.twitter.com/ESxGzn7ex8

— Erik Stevens 🐆 (@IHunt100xGems) November 18, 2023
Promising Alternative To Avalanche
TG.Casino advertises as the world's leading Telegram casino. It offers community members an entrance into an exclusive place for online, anonymous crypto gambling.
According to the website, the project is fully licensed and 100% safe. A recent announcement indicates it has secured know-your-customer (KYC) approval.
Exciting News!!!

We are proud & excited to announce that our KYC has been APPROVED by The Verification Gold Standard, @AssureDefi ✨✅

Taking a step towards solid investor security and transparency.

View our KYC #Certificate:https://t.co/N940WZJsE3 pic.twitter.com/UNCJyHPUSn

— TG Casino (@TGCasino_) November 10, 2023
TG.Casino has grown an immense amount in the past week. Data as of the time of writing shows up to $2.644 million in presale collections out of the $5 million final goal. A TGC token sells for $0.16 in the current stage.
TG Casino has grown an immense amount in the past week, which means there are more eyes on us now.

We urge you to stay safe in these times.

❗ We will never DM you
❗ This is our ONLY X Account
❗ There is only one Telegram channel pic.twitter.com/0rCQ2X6yMf

— TG Casino (@TGCasino_) November 20, 2023
TGC token is among the top three initial coin offerings (ICOs) to buy and features among the top five crypto presales to invest in this year.
[embedded content]
Visit TG.Casino website to buy TGC in the presale here.
Also Read:
New Crypto Mining Platform – Bitcoin Minetrix
Audited By Coinsult
Decentralized, Secure Cloud Mining
Earn Free Bitcoin Daily
Native Token On Presale Now – BTCMTX
Staking Rewards – Over 100% APY