This post was originally published on
this site
Ethereum price completes the rejection from over the weekend after hitting a curb.
ETH sinks in search of support and could have more room to go. 
The rally could remain intact if $1,425 holds its ground.
Ethereum (ETH) price sees pressure mounting as profit-taking gets sped up by bulls exiting their positions in light of the risk events into next week. With several big central banks set to issue their first monetary policy meeting for the year, traders are bracing for a cold shower as several central bankers have recently issued warnings that a victory dance in the markets is too early and too premature since inflation remains historically elevated. As long as the 200-day Simple Moving Average (SMA) at $1,425 holds, the rally is intact, while any lower break is a warning sign.
Ethereum price is still granted for a rally, but momentum is fading
Ethereum price is seeing the sentiment and enthusiasm among traders take a turn for the worse as markets signal that profit-taking is underway. The trigger came after $1,688 got tested with a firm rejection as the end result. With the current fade of roughly 10% to the downside, a cool-down in the Relative Strength Index (RSI) and its price action is welcomed, but it must not go further than needed. 
ETH seems to be making a balance test to see if this rally is strong enough, has more legs to go higher, and breaks that $1,688 level to start flirting with $2,000 in the near term. Expect to see that the rally is still supported and will soon test $1,688 again to the upside with support granted near the monthly R3 at $1,512. Should that R3 level fail, the safeguard will be found at $1,425, which will act as the last line of defence for this rally, before restarting the journey toward $2,000.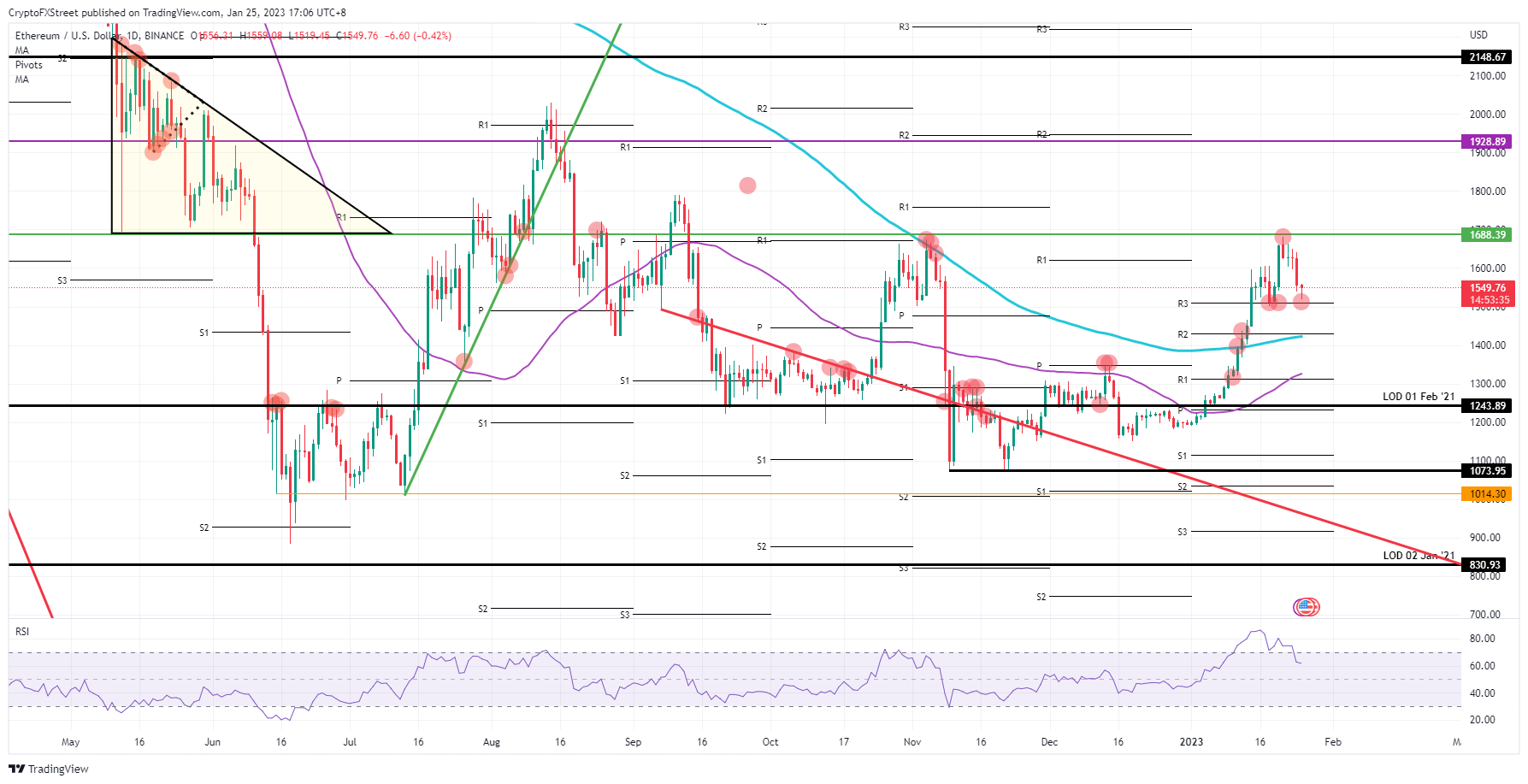 ETH/USD daily chart
Already underlined in the above paragraphs is that the balance or the fine line of this rally to be supported is very thin. Risk to the downside could easily come with price action breaking below the 200-day SMA. When that happens, expect several stops to be hit and create a wave, a flood of sell orders, creating an equilibrium between buyers and sellers. This means that price action will be driven towards the first $1,315 near the monthly R1 and the 55-day SMA, and possibly even $1,243 with a test of that pivotal level from February 1st of 2021.