This post was originally published on
this site
The broader crypto market is seeing a resurgence in bullish sentiment, with a 0.43% surge in the past 24 hours.
Bitcoin and Ethereum, influential market players, are leading this trend with gains of 0.52% and 1.45%, respectively, in the same period.
Ethereum ($ETH) has played a crucial role in the expanding decentralized finance (DeFi) ecosystem as a leading smart contract network.
In 2021, $ETH experienced a bullish rally, reaching an all-time high (ATH) price of $4,840. Although the coin has declined since then, investors are optimistic about another price surge due to the project's promising future.
With the ongoing bull run and previous achievement of almost $5,000, some investors may wonder if it's an ideal time to consider purchasing the token.
However, due to the high price, investing in $ETH may be unsustainable, especially for newbie investors. Therefore, they can explore the nascent project AiDoge's token, $AI, as a value-driven alternative.
ETH Retraces and Seek Higher Price Levels
At press time, the Ethereum network coin is trading at $1,810.07, following a 1.45% surge in the last 24 hours.
Prior to this, the second-largest cryptocurrency has been on an impressive bullish run, with a 0.3% increase in price in the last seven days and 3.3% in the last two weeks.
The cryptocurrency has displayed a bullish sentiment, with a 90-day increase of 12.82% and a significant surge of 50.51% over the last 180 days.
Its year-to-date (YTD) performance is also in the green zone, with 51.78% recorded this year.
$ETH currently has a 24-hour trading volume of $5 billion and is riding the bullish wave with a 0.30% uptrend in the last hour, indicating a continuous rally.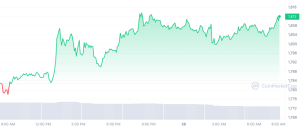 Based on the current technical charts, it appears that the recent surge is driving a positive trajectory for $ETH.
The digital asset's current price sits above its 50-day simple moving average (SMA) of $1,776.12 in the short term and its 200-day simple moving average (SMA) of $1,789.43 in the long term.
Although $ETH is currently outperforming its moving average indicators, investors should anticipate price fluctuations based on market volatility.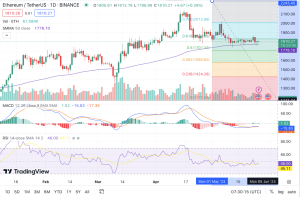 Regarding technical analysis, $ETH is currently pushing close to the 61.8% Fibonacci retracement level of $1,830.
The crypto asset may meet resistance, but steady bullish momentum could see $ETH break through and push toward higher price levels.
However, if the crypto market continues to rise and the Ethereum network gains traction, the asset could reach $5,000 in the near future.
The relative strength index (RSI) metric of 46.00 signifies that $ETH is currently underbought.
On the other hand, the moving average convergence divergence (MACD) reflects a neutral view, and the asset could enter either the sell or buy zone.
Ethereum Protocol Fellowship Prepares the Fourth Cohort Program
The third successful cohort of the Ethereum Protocol Fellowship concluded in February 2023 after four months of intensive learning, research, and valuable contributions to the Ethereum core ecosystem.
The protocol fellowship is now preparing for its fourth cohort.
This fellowship aims to provide a platform for developers to contribute to the protocol's core and join the diverse teams working on its development. Sustaining a continuous influx of core developers is crucial for Ethereum's growth.
We just released the recap of the third cohort of the Ethereum Protocol Fellowship plus a little teaser for what's coming next…https://t.co/vZAsXKeXX3

— Josh Davis ☀️ (@joshdavislight) May 10, 2023
The fellows collaborate closely with researchers to shape the protocol's roadmap, tackle challenges, and implement effective solutions.
Thanks to their efforts, the protocol remains updated and capable of meeting the demands of its expanding user base.
As more developers come on board to meet the demands of Ethereum's user base while creating more utility, the value of the $ETH coin increases.
Buy Utility Driven AiDoge as ETH Alternative
Investors can consider AiDoge's token, $AI, as a value-driven alternative to $ETH.
This unique meme coin, which integrates generative artificial intelligence (AI) technology, is on presale, providing an innovative investment opportunity.
AiDoge is developing a novel crypto-powered Web3 platform that will empower users to generate, distribute, and evaluate user-created memes through their pioneering AI technology.
The platform enables comprehension of patterns, humor, and cultural references by extensively training its AI algorithms on extensive meme datasets.
[embedded content]
Consequently, AiDoge ensures that the memes produced are not only relevant but also customized to cater to individual user preferences.
The innovative idea of "meme-to-earn" (M2E), which enables leading meme creators to generate passive income, has gained significant popularity within the broader community of crypto investors.
With innovative technology and a vibrant community, #AiDoge stands out from the crowd.⭐️

Brace yourself for a #Memecoin experience like no other, where memes meet utility.💪

Join us and unleash the power of $AI! 🐶🔥

👉https://t.co/5j5tt4smcs#MemeCoinSeason #Crypto $PEPE pic.twitter.com/qLTwQcSXu0

— aidogecrypto (@aidogecrypto) May 26, 2023
This groundbreaking platform has successfully raised over $14.4 million in its presale program in just a few weeks.
At press time, investors can purchase the $AI token for $0.0000336.
The presale program is already in its last stage, so interested investors have to move fast before the token gets listed on the CEX and DEX platforms.
Related News
AiDoge – New Meme to Earn Crypto

Earn Crypto For Internet Memes
First Presale Stage Open Now, CertiK Audited
Generate Memes with AI Text Prompts
Staking Rewards, Voting, Creator Benefits