Mutual funds are underweight megcap technology stocks despite chasing some during the second quarter, leaving them struggling to beat their benchmarks, according to analysts at Goldman Sachs Group. 
"Mutual fund performance has continued to disappoint in the last few months," Goldman analysts said in a research note after the U.S. stock market closed Aug. 23. "The default underweight position of core and growth funds in the soaring mega-cap tech stocks continues to be the most significant headwind to mutual fund performance."
Just 30% of large-cap mutual funds have beat their benchmarks this year, compared with a 38% "hit rate" since 2007, the note shows. Meanwhile, the seven largest megacap tech stocks have  outperformed the gain of around 4% for the equal-weight version of the S&P 500 this year, says Goldman.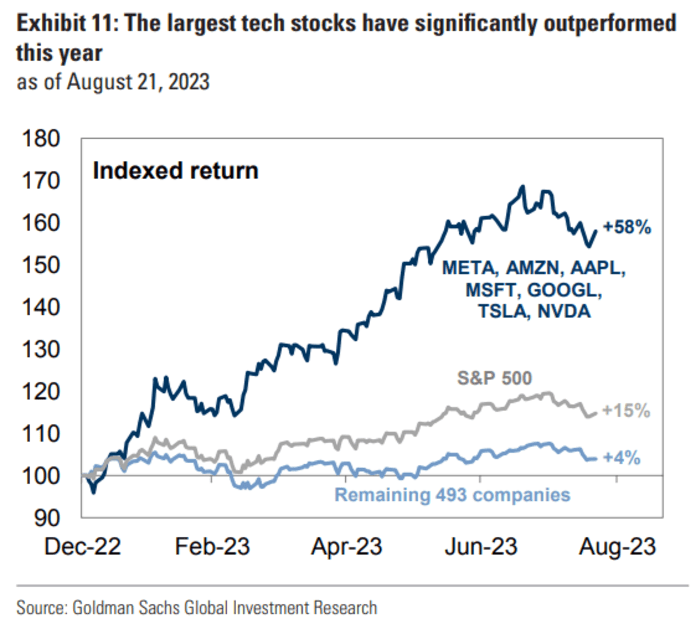 In the second quarter, the number of mutual funds' underweight in megacap tech stocks rose further despite portfolio managers chasing rallies in Google parent Alphabet Inc.
GOOGL,
+0.97%,
Facebook parent Meta Platforms Inc.
META,
-0.97%
and Microsoft Corp.
MSFT,
+0.12%,
said the analysts.
Shares of all three of those giant companies are down so far this month — with Meta tanking 10%, Microsoft sliding around 4.8% and Alphabet dipping 2.2% —  but each saw massive gains in the second quarter while soaring this year, according to FactSet data.
Meta has surged more than 138% in 2023 through Thursday, while Alphabet has soared more than 47% and Microsoft has jumped more than 33%.
While the average mutual fund bought shares of those companies in the second quarter, their underweight allocations to Apple Inc.
AAPL,
+1.92%,
Nvidia Corp.
NVDA,
+0.98%,
Tesla Inc.
TSLA,
-0.11%
and Amazon.com Inc.
AMZN,
+0.12%
widened, according to Goldman. 
Record underweight
"Mutual funds in aggregate hold the largest underweight position" in megacap tech stocks on record at 490 basis points, the analysts said. 
Meanwhile, the average large-cap mutual fund is 792 basis points underweight the seven largest tech stocks, versus 721 basis points underweight at the start of the second quarter, according to their research.
Goldman also found that funds remain overweight in cyclical sectors, increasing exposure to financials and energy for the highest exposure to these areas since at least 2012. 
Read: 'Rare' rally in cyclical stocks largely over, Goldman warns, after ETF investors favored such areas of the market
"Funds also remain overweight industrials and materials," the analysts said.
Mutual funds are having a tough time beating benchmarks, but when excluding the seven largest tech stocks, the average large-cap portfolio has outperformed the Russell 1000
RUI
by 67 basis points this year, according to Goldman. 
Including those stocks, though, the portfolio of the average large-cap mutual fund has lagged the Russell 1000 by 136 basis points so far in 2023, said the analysts.