The information and technology (IT) sector, which has been going through a rough patch lately, was among the top draws for equity mutual funds (MFs) in July. MF schemes together invested a net of Rs 1,800 crores in IT stocks last month after pulling out around Rs 700 crore from the sector in June, according to a report by ICICI Securities.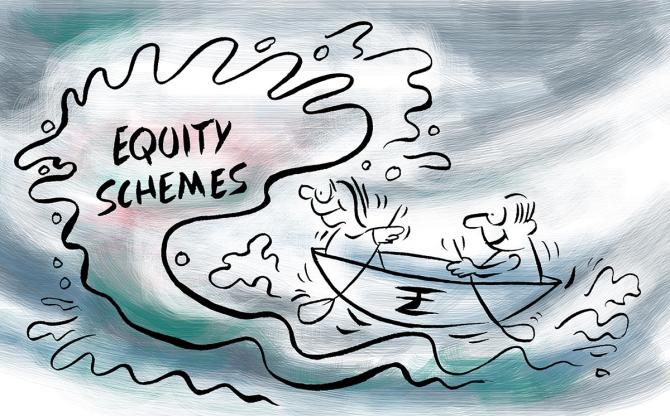 Overall, MFs deployed Rs 4,900 crore in IT firms in the first four months of the 2023-24 financial year (FY24) with financial services and IT stocks emerging as the preferred bets.
On the other hand, fund managers have trimmed their exposure to stocks in the private banking and industrial space between April and July 2023.
Market observers say that the largest investment in financials and drawdown from private banks is partially as a result of fund managers moving their investments from HDFC Bank to HDFC ahead of the twins' merger to capture the arbitrage gains.
Materials and healthcare were among the other sectors where MFs placed the larger bets.
The deployment into these sections came at the cost of industrials, automobile and public sector banks.
MFs sold a net of Rs 5,600 crore worth of industrial sector stocks in the April-July period.
They pulled out Rs 4,400 crore from the automobile sector, shows the report.
In July, MFs had stepped up equity purchases after staying on the fence for over two months.
Their net equity investments reached a four-month high of Rs 7,700 crore in July, rising for the fourth consecutive month after withdrawing a net of Rs 5,100 crore in April 2023.
In the IT universe, mid-cap IT stocks are likely to have received a higher share of the inflows vis-a-vis large-cap stocks.
The data shows that while mid-cap MF schemes were net buyers in the sector, large-cap schemes continued to trim their allocation. However, data pertaining to other schemes is not available.
---
Disclaimer: This article is meant for information purposes only. This article and information do not constitute a distribution, an endorsement, an investment advice, an offer to buy or sell or the solicitation of an offer to buy or sell any securities/schemes or any other financial products/investment products mentioned in this article to influence the opinion or behaviour of the investors/recipients.
Any use of the information/any investment and investment related decisions of the investors/recipients are at their sole discretion and risk. Any advice herein is made on a general basis and does not take into account the specific investment objectives of the specific person or group of persons. Opinions expressed herein are subject to change without notice.