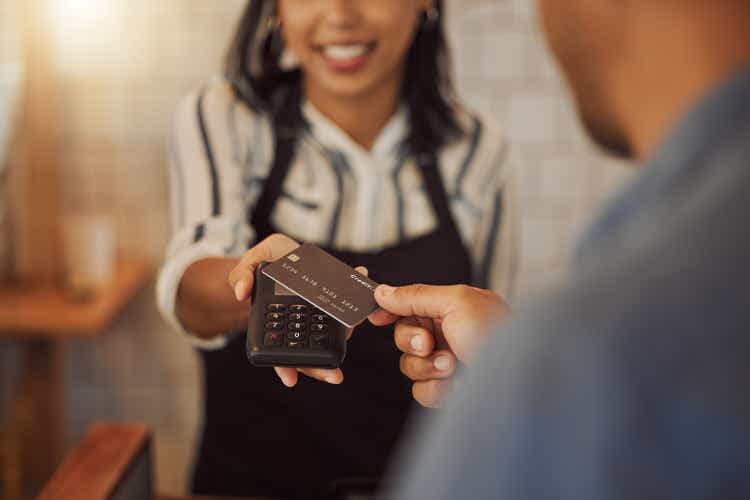 The Brazilian payment and digital banking company PagSeguro (NYSE:PAGS) reported record-breaking net profit in the third quarter, showcasing resilience amid challenges posed by a more intricate credit environment in Brazil amidst declining interest rates.
In my initial company analysis, I highlighted PagSeguro's potential to benefit from a more favorable fiscal landscape in the acquiring and banking sectors in the upcoming quarters. The company's appealing valuation further strengthens my optimistic outlook.
Despite ongoing sectoral pressures, including an imperfect credit environment, intense domestic competition, and the impact of PIX, there are additional risks tied to a recent law imposing revolving credit limits, potentially affecting revenues for banks and acquiring companies like PagSeguro.
Nevertheless, despite the persisting challenges, PagSeguro's recent performance reveals promising figures regarding Total Payment Volume (TPV). The ongoing trend towards a more favorable credit scenario in Brazil for 2024, potentially featuring single-digit interest rates, coupled with the company's discounted valuation, solidifies my bullish stance on PagSeguro.
PagSeguro's 3Q23 Earnings
In the third quarter of this year, PagSeguro reported a recurring net income of R$440 million, marking a 7% increase year-over-year and a 6% increase quarter-over-quarter. Under the accounting criteria, the company's result stood at R$411 million, reflecting an 8% growth over the past year.
This quarter marked PagBank's highest profit in history, attributed to improved dynamics in the acquiring operation, evidenced by the growth in machine-captured volume. Additionally, the impact of the reduced interest rates in Brazil (Selic) at 12.75% led to a decline in financial expenses. There were also benefits from a decrease in provisions against defaults in the credit portfolio of the banking operation.
The reduction in financial expenses, approximately R$100 million year-over-year, marked the first annual decline since 2021. Lower interest rates and an increase in deposits, reaching R$21.6 billion in the quarter (up 11% in one year), contributed to this positive trend. Utilizing its banking license, PagBank leverages customer deposits to grant credit.
EBITDA for the quarter reached R$894 million, a 16% increase year-over-year and a 5% increase quarter-over-quarter. Net revenue remained stable year-on-year at R$4 billion, with the impact of the cap on interchange fees for prepaid cards offset by higher revenue from machines.
Operating expenses for PagBank in the third quarter totaled R$583 million, reflecting a 5% decrease compared to the same quarter last year and a 1% decrease compared to the second quarter of this year.
The total finance volume (TFV) processed by the company reached R$244 billion, showing a 25% increase over the past year and a 10% increase in the quarter. Within this, a total payment volume (TPV) of R$99.8 billion was processed in the acquiring business, reflecting an 11% increase year-over-year and an 8% increase quarter-over-quarter, and the total banking volume (TBV) reached R$143.9 billion increasing 37% yearly and 12% quarter-over-quarter.
Examining key performance indicators (KPIs), the ARPAC for payments demonstrated consistent growth both annually (17.9%) and quarterly (2.9%), which was decent. Conversely, the ARPAC for financial services experienced a year-on-year decline of 23.9% and a quarterly decrease of 10.6%.
Regarding the efficiency ratio, which gauges the SG&A required for each unit of total revenue and income, PagSeguro achieved an impressive 16.4%. This signifies enhanced cost management, showcasing a notable year-over-year improvement of 4.1 p.p. Despite a marginal 0.2 p.p. quarter-over-quarter increase, the company maintained efficiency in its cost structure.
Brazilian Credit Scenario and Outlook for 2024
The third-quarter earnings season has indicated a turning point for Brazilian publicly traded banks and financial institutions.
Results demonstrate significant improvement after a challenging first half marked by a risky credit environment and the impact of the Americanas case. Defaults, which had been increasing since the pandemic lows, have shown signs of peaking and are now on a downward trend.
Net interest income continues to rise, influenced by the delayed effect of the Selic rate fall on credit. Fee income also maintains growth. Despite an economic slowdown, the sector's outlook for 2024 appears positive.
As per the Brazilian Central Bank's expectations, the interest rate is projected to be 11.75% at the end of 2023 and 9% in 2024. Notably, the Central Bank has, for the first time, presented a credit growth forecast for 2024, estimating 8.5%.
Credit with free resources is anticipated to be more responsive to the expected evolution of monetary policy with falling interest rates. This will likely result in credit balance growth surpassing 2023 in nominal and real terms.
The acceleration is foreseen to be driven by the free credit segment for legal entities in Brazil as the impacts of events involving large companies dissipate. Conversely, credit for individuals is expected to experience a slight slowdown, reflecting factors such as high levels of indebtedness, income commitment, and lower growth in household income.
The outlook of nominal credit acceleration and a slowdown in inflation suggests robust real growth in the credit balance for the coming year.
Regulatory Risk Remains a Key Consideration for the Thesis
The limits on revolving credit card interest rates in Brazil could impact the operations of banks and payment companies in the country, such as PagSeguro.
Revolving credit, offered to consumers who don't pay their card bill in full by the due date, is one of the most expensive loan types in the Brazilian National Financial System. Its average cost reached 445% per year in August. It is currently the primary source of revenue in the card segment for issuing banks, and it is with this line that the institutions subsidize the "interest-free installments."
The bill that regulates the federal government's debt renegotiation program and limits revolving credit card interest rates was finally signed into law by President Luiz Inácio Lula da Silva. However, the banks will decide how to set a ceiling on the rate charged to consumers with overdue installments.
The text approved by the Brazilian Senate says that issuers of credit cards and other post-paid instruments must suggest limits for interest rates and financial charges levied on revolving accounts and installment payments.
Although the debate on the revolving limit is centered on banks, potentially affecting PagBank, the acquiring side should also pay close attention to the issue. As a Morgan Stanley study reveals, once installment payments are limited to six months, the impact on these companies' revenues could be between 35% and 56%.
Purchases made in installments of seven times or more without interest represent around 16% of the total payment volume (TPV) of Brazilian acquirers, such as Cielo (OTCPK:CIOXY), StoneCo (STNE), and PagSeguro, but contribute, on average, 47% of their revenues.
Thus, if more extended installment payments are extinguished in response to revolving limits, there could be an impact of between 25% and 40% on the revenues of card providers. If purchases were limited to six installments, the effect would be lower, between 10% and 15%.
Valuation
Examining valuation, PagSeguro presents an appealing discount with a forward price-to-earnings (P/E) ratio of 8.2x. In comparison, its primary Brazilian counterpart, StoneCo, trades at 15.4x. Despite operating with distinct business models and footprints, StoneCo serves as a valuable benchmark for valuation.
These distinctions underscore each company's strategies to excel in Brazil's dynamic payment methods and financial services market. PagSeguro focuses on catering to smaller entrepreneurs, whereas StoneCo adopts a more comprehensive approach, encompassing advanced solutions and forging global strategic partnerships.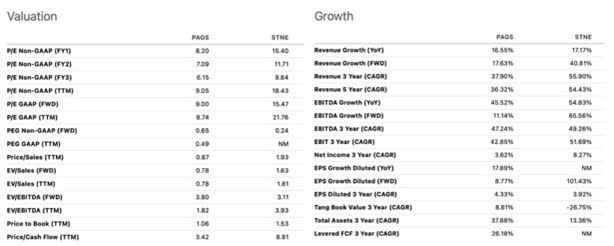 While the projections for revenue growth and EBITDA are higher than those of PagSeguro, I contend that given the economic scenario in Brazil, the challenges are pretty similar. These include tight credit conditions, the cannibalization of PIX, and associated regulatory risks, such as the potential limitation on revolving credit cards. Thus, I find PagSeguro's substantial discount compared to StoneCo less justifiable.
The Bottom Line
PagSeguro's third-quarter results reflect positive developments, marked by record profitability and robust Total Payment Volume (TPV) growth on both a quarterly and annual basis. Improved operating trends, coupled with a decrease in Brazilian interest rates, bode well for the company's funding strategy and its ability to sustain growth with profitability.
Despite the likely improvement in macroeconomic conditions in Brazil, inherent regulatory risks pose a potential challenge. The government's contemplation of imposing limits on interest rates for revolving credit cards could negatively impact PagSeguro. This could lead to a reduction in the number of installments in the interest-free installment product and an increase in interchange fees. Consequently, these changes may decrease retail sales volume and pressure the net margins of payment companies in general.
Nevertheless, anticipating a more favorable credit conditions scenario in Brazil for 2024 and considering PagSeguro's significantly lower multiple compared to its primary domestic peer, StoneCo, I maintain my bullish stance on PagSeguro shares following the Q3 earnings.
Editor's Note: This article discusses one or more securities that do not trade on a major U.S. exchange. Please be aware of the risks associated with these stocks.