This post was originally published on
this site
Polygon (MATIC) price moves horizontally, flat if you would have it, after a 10% drop. The altcoin seems to be missing out on the uptick that Bitcoin (BTC) and Ethereum (ETH) are currently nurturing. MATIC is among the three assets the US Securities and Exchange Commission (SEC) branded as securities. Cardano (ADA) and Solana (SOL) make the other two.
Nevertheless, after BTC found support at $25,174, ADA and SOL moved north, recording 3% and 5% upticks, respectively. Meanwhile, MATIC is up a meager 0.51% and remains 10% lower than its market value seven days ago.
It is worth mentioning that altcoins are also recording notable upticks, stewarded by Ethereum, the largest altcoin by market capitalization. For Ether, the uptrend comes as optimism about the US SEC approving ETH futures Exchange Traded Fund (ETF) continues to grow.
This not surprising to us, we had said they would approve Ether Futures early on in race. Nice to be validated. Now what does it mean for spot? Hard to say beyond it shows that their views/policy/tolerance can change. https://t.co/JXCxNUpj2U

— Eric Balchunas (@EricBalchunas) August 17, 2023
With Polygon's price stuck at the July 2022 lows, experts anticipate an additional 20% drop from its current $0.5553 price. To some, the stagnation comes as traders and investors switch to the more recent Layer-2 projects like Arbitrum (ARB) and Optimism (OP).
Why Polygon Price Is In Rear View
Polygon's price remains in the rearview, primarily because its network growth has declined. According to data on Santiment, the number of new addresses registered on Polygon has steadily declined, retesting the lowest levels since 2021.

Data from IntoTheBlock corroborates this, showing that the number of new addresses is currently 556. This is down almost 90% from the 4,940 recorded around the same time in 2021.

An aggregate of new wallet addresses created daily points to the number of unique users joining the network. For Polygon, the number of new MATIC addresses has declined. This is unlike the case for the Arbitrum and Optimism networks, which recorded a steady rise.
This points to a network that may grow obsolete unless inventions are present. It explains the network's decision to change the CEO and token symbol from MATIC to POL.
MATIC will be no more!

Polygon has announced a new technical proposal to modernise the #MATIC token, namely to replace it with POL.

Now it's up to the #Polygon community. If the majority votes in favour, all $MATIC tokens will be upgraded to #POL at a 1:1 ratio. pic.twitter.com/qeDiHzqDX1

— Akif 🌐 (@akifyx) August 14, 2023
Hopefully, the MATIC community and the Polygon network, in general, will expedite the execution of new tokenomics for POL.
Polygon Price Forecast
MATIC is auctioning for $0.5570 at the time of writing, with prospects for further decline. If the scenario continues, Polygon's price could break below the immediate support at $0.5458 to collect sell-side liquidity below the longs' stop loss level.
The Relative Strength Index (RSI) position below 50, specifically under the 30 level, solidifies chances for a decline. The histogram bars of the Awesome Oscillator (AO) are also in the negative zone, adding credence to the downside thesis.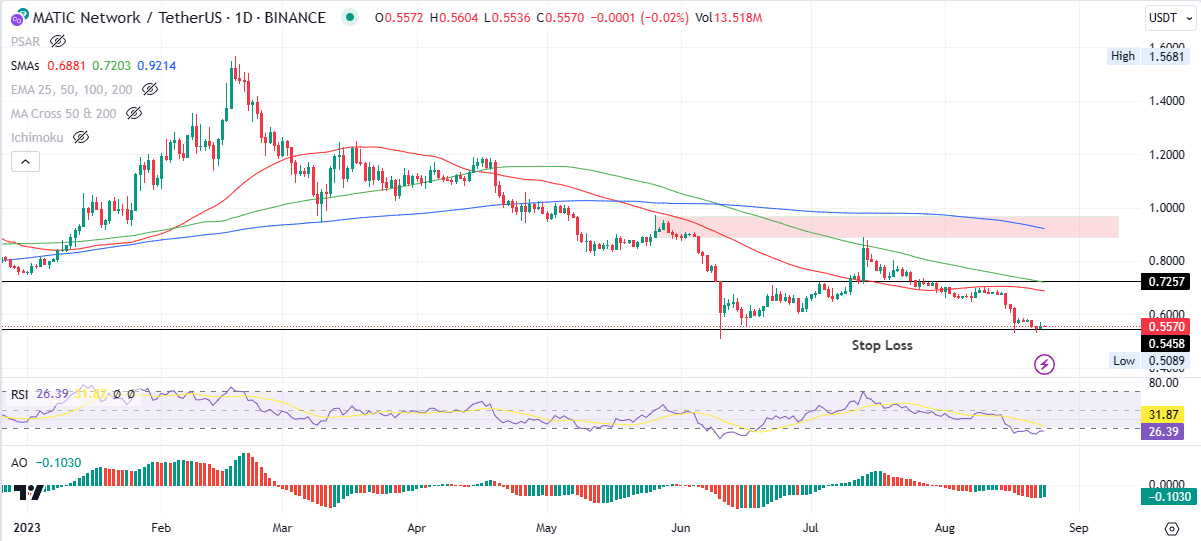 Conversely, if sideline investors come in, Polygon's price could correct north, reaching the 50-day Simple Moving Average (SMA) at $0.6881. Higher north, MATIC could surpass the resistance confluence between the 100-day SMA and the horizontal line at $0.7257. In a highly bullish case, the altcoin could reach higher, potentially tapping the supply zone to confront the 200-day SMA at $0.9214.
The AO flashing green histogram bars show bulls establishing a presence, which could bode well for Polygon price.
Selling Pressure On Polygon Price
Data from IntoTheBlock also show that at the current price, 564.39 MATIC was in the profit, worth approximately $314.16 million. On the other hand, 9.37 billion MATIC worth $5.22 billion was incurring losses. Meanwhile, 65.34 million MATIC worth $36.37 million was breaking even.

With up to 93.70% of theloss volumes, the amount of selling pressure on the Polygon price may be higher as token holders try to avoid further losses. These holders are likely to sell once they break even.
Switch attention from MATIC to WSM, a project with better prospects. Experts are very optimistic about it, as indicated in the video below.
[embedded content]
Alternative to Polygon
The Wall Street meme coin's presale phase is reaching an exhilarating conclusion, having achieved a remarkable milestone by raising $25 million in funds. This impressive accomplishment establishes it as the standout meme coin presale of 2023. With the presale winding down, investors are presented with their final opportunity to acquire the coin before its official launch. Notably, the $WSM token is poised to debut on tier 1 exchanges in 34 days.
💲25M for Wall Street Memes coin ($WSM) in presale? Astonishing! Soon staking, watch out Wall Street, it's meme time!👊 But, will $WSM be another Doge or Shiba? Who knows? Elon, any thoughts? 💭🐋 #Crypto #WSM #ElonMusk🚀🌕https://t.co/rNDcbxCSQN

— Elmore (🌿,👻) (@Roe_APT) August 22, 2023
Unique Path to Prominence in the Crypto Landscape
The Wall Street meme coin project is generating substantial funds and capturing the attention of investors and crypto enthusiasts alike. It is emerging as a frontrunner for the most significant currency Centralized Exchange (CEX) launch of Q3 2023. This distinction is noteworthy, especially for a new meme coin initiative that has yet to enter the Decentralized Exchange (DEX) markets, setting it apart from the norm.
Tokenizing Discontent: The Essence of $WSM
At its core, the $WSM cryptocurrency draws inspiration from the anti-bank sentiment propagated by investors who challenged Wall Street. This meme currency transforms the widespread dissatisfaction within the Wall Street Bets community into a tangible asset. The creators of $WSM aspire to achieve this by tokenizing the anti-bank movement and reshaping the very concept of digital value.
Innovative Distribution Model and Community Engagement
Remaining true to its anti-bank roots, the distribution strategy of $WSM exemplifies its commitment to community engagement. A significant portion of the token supply, 30%, is allocated as community awards, fostering a sense of inclusivity and participation. Additionally, 20% of the tokens are dedicated to liquidity, ensuring a stable trading environment, while the remaining 50% is offered in a presale accessible to the general public.
$WSM is a community-focused project revolving its token around the community.tokenomics, 1 billion $WSM token supply will be split into four parts. 
50% goes for presale, 30% is set for community 10% CEX) liquidity, and the remaining 10%DEX)

— cryptomentions.eth (@CryptoMentionss) June 10, 2023
Investor Enthusiasm and Notable Transactions
The Wall Street Memes community has achieved an impressive milestone, amassing a staggering membership of one million individuals. During the presale phase, investors can acquire $WSM tokens at $0.0334 per token. This enticing proposition has attracted significant attention, with one investor purchasing $7,000 worth of $WSM tokens during the presale period.
A short thread 🧵

I bought $7,000 of $WSM Presale.. They are getting ready to list on multiple exchanges…

call it a scam all you want but this is going to the moon.
Multiple tier 1 exchange will be listing $WSM

Buy here: https://t.co/tzErMLGhQU pic.twitter.com/HNufP1qQGM

— Crypto Dose (@cryptodosee) August 22, 2023
Moreover, the excitement surrounding the project is vividly illustrated by the actions of a crypto whale. This anonymous whale address injected $1 million into the Wall Street Memes $WSM presale in early August. Within six minutes, the whale executed five transactions totaling 460 ETH, equivalent to approximately $840,000.
🚀💼🐋 Wow! A massive $1M investment by a crypto whale in the Wall Street Memes presale! 📈💰 This sends $WSM soaring above the $20M milestone. Will this be the next explosive meme coin? Stay tuned for all the juicy details! 📢💥 Like and retweet to spread the excitement! pic.twitter.com/VtSbsywQZa

— Whales Finder (@WhalesFinder) August 2, 2023
Notably, this wallet had engaged in a 93 ETH transaction two weeks prior, further highlighting the whale's confidence in the project. The substantial investments by this crypto whale significantly bolster the perceived market potential and profitability of Wall Street Memes.
Also Read:
Wall Street Memes – Next Big Crypto
Early Access Presale Live Now
Established Community of Stocks & Crypto Traders
Featured on BeInCrypto, Bitcoinist, Yahoo Finance
Rated Best Crypto to Buy Now In Meme Coin Sector
Team Behind OpenSea NFT Collection – Wall St Bulls
Tweets Replied to by Elon Musk