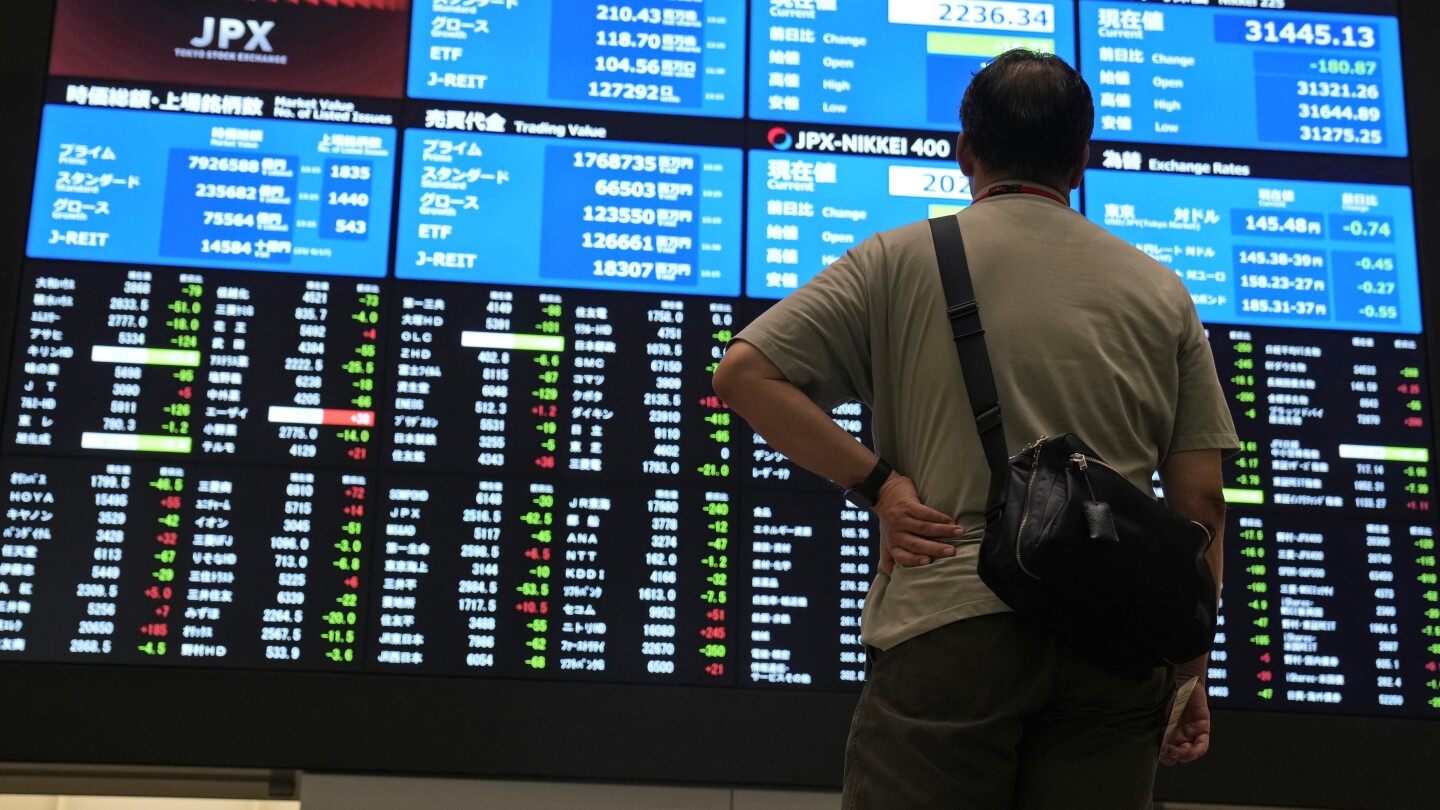 BEIJING (AP) — Asian stock markets were mostly lower Thursday after Japanese factory activity and Chinese service industry growth weakened.
Shanghai, Hong Kong and Seoul declined. Tokyo gained. Oil prices edged lower.
Wall Street's benchmark S&P 500 index rose 0.4% on Wednesday after the U.S. government cut its estimate of economic growth for the second quarter to a still-robust level.
Traders hope that and data on hiring and retail sales will convince the Federal Reserve upward pressure on prices is under control and no more interest rate hikes are needed.
Official data showed Japanese factory activity shrank by 2% from the previous month in July. Meanwhile, a survey of Chinese service industries showed activity weakened in July but still was expanding.
"Things could be worse. But markets are not likely to take too much comfort from this set of data," said Rob Carnell of ING in a report.
The Shanghai Composite Index lost 0.5%to 3,122.37 while the Nikkei 225 in Tokyo advanced 0.6% to 32,517.23. The Hang Seng in Hong Kong declined less than 0.1% to 18,469.05.
The Kospi in Seoul was 0.4% higher at 2,548.87 and Sydney's S&P-ASX 200 shed less than 0.1% to 7,293.30. New Zealand and Jakarta declined while Singapore gained.
A monthly index of Chinese service industries declined to 51 from June's 51.2 on a 100-point scale on which numbers above 50 show activity growing. A separate manufacturing index improved to 49.7 but still showed activity contracting.
Chinese economic growth slid to 0.8% over the previous quarter in the three months ending June from the January-March quarter's 2.2%. Exports have contracted and retail spending is weak.
The latest measures suggest Asia's biggest economy is not "definitively growing," said Stephen Innes of SPI Asset Management in a report. "These figures might not sufficiently reassure the markets."
On Wall Street, the S&P 500 advanced Wednesday to 4,514.87. It is down from this year's peak in July but still up 17.6% for the first eight months of 2023.
The Dow Jones Industrial Average added 0.1% to 34,890.24. The Nasdaq gained 0.5% to 14,019.31. It is up nearly 34% for the year.
Technology stocks led gains. Apple rose 1.9% and Palo Alto Networks rose 1.7%. HP lost 6.6% after cutting its profit forecast.
The U.S. government cuts its second quarter economic growth estimate for an annual rate of 2.1% from 2.4%. That still is up from 2% during the first quarter.
Official data Tuesday showed is cooling, another possible data point in favor of the Fed holding steady on interest rates that are at a 22-year high to cool inflation.
The central bank held rates steady at its last meeting. Investors expect the same at its meeting in September.
Traders hope the the Fed can pull off a "soft landing," or bringing inflation under control without tipping the U.S. economy into recession.
On Thursday, the government will release an inflation update with a report on personal consumption and expenditures, or PCE. That is the inflation measure the Fed watches most closely. It eased to 3% in July from last year's peak of 7%.
On Friday, the government's monthly employment report for August will cap a heavy week of updates.
In energy markets, benchmark U.S. crude oil lost 8 cents to $81.55 per barrel in electronic trading on the New York Mercantile Exchange. It rose 47 cents on Wednesday to $81.63. Brent crude, the price basis for international oil trading, shed 10 cents to $85.14 per barrel in London. It gained 37 cents the previous session to $85.86.
The dollar declined to 145.84 yen from Wednesday's 146.20 yen. The euro edgd down to $1.0923 from $1.0923.