This post was originally published on
this site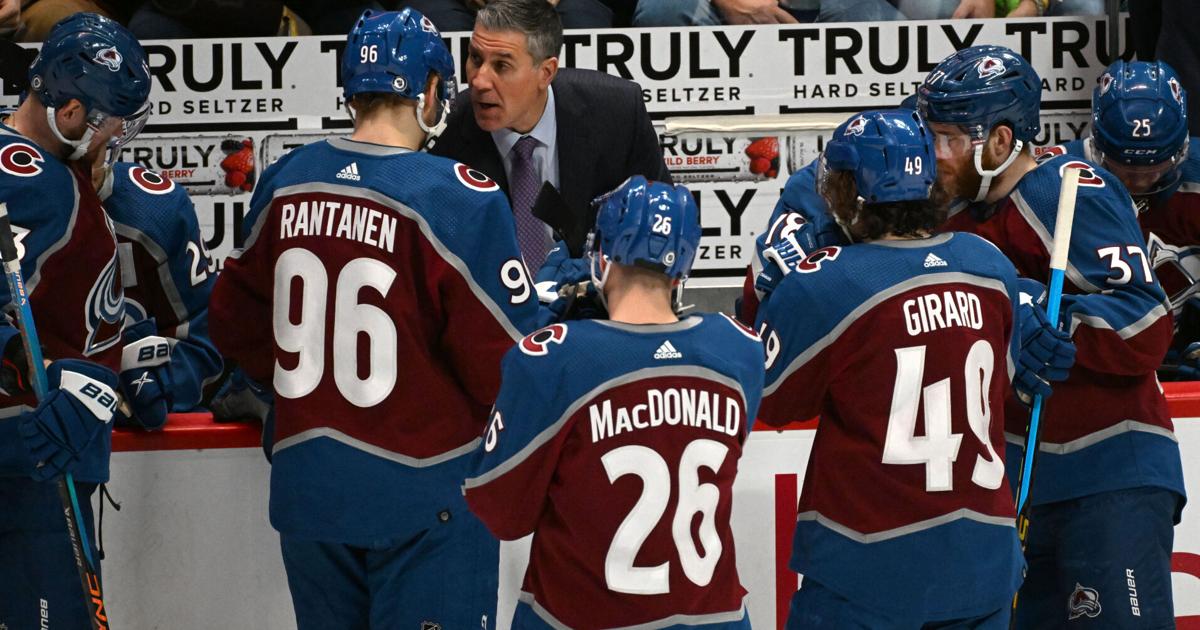 How does Jared Bednar, the winningest coach in Colorado Avalanche history, define pressure?
Envision this scenario: Bednar, in the thick timber of a remote South Carolina forest, hunting wild feral hogs, dangerous and hostile animals weighing more than 100 pounds, armed with only… a knife.
Brett Marietta, a former ECHL teammate, owns property southwest of Charleston and is Bednar's offseason guide. Marietta explained the goal is to track down the hog, flip it on its back, secure your long hunting blade, and then drive it into the animal's vital organs. Bednar — an accomplished outdoorsman and championship hockey coach — has done it all.
"Chasing them with dogs, going in there with a knife, and we stab them," Marietta told The Denver Gazette in a recent phone interview.
Bednar's calm under pressure, whether behind the Avs bench or on the hunt, is the stuff of legend.
Call it one of many personal traits that made possible regular season win No. 266 — the most in Avalanche/Nordiques franchise history, surpassing Michel Bergeron. He coached in Quebec for 634 games over eight seasons. Bednar broke the wins record Tuesday night — a 3-2 home win over the Washington Capitals — in only his 500th game as Colorado's coach.
"It's a privilege to coach and work in the NHL and certainly a privilege to be able to do it for an organization like the Avalanche, that gave me my first crack at a head coaching position in the league," Bednar said Saturday after tying Bergeron's wins mark. "Hopefully, there's many more (victories) to come."
Bednar, humble to a fault, will deflect credit to mentors who paved the way. Jason Fitzsimmons gave Bednar his first assistant coaching position in the ECHL (South Carolina Stingrays). Jim Playfair hired him to coach in the AHL (Abbotsford Heat). And, of course, it was Joe Sakic and Chris MacFarland who trusted a 44-year-old Bednar to lead the Avalanche back in 2016.
He's won a championship as a coach in all three leagues.
Ask around the Avalanche dressing room these days and it's clear that Bednar has a style that's all his own. Forward Andrew Cogliano — with 1,100-plus career NHL games played between five different teams — said: "I don't know if you're going to find a much better coach out there. I'm not saying that to suck up in any way. That's just the honest truth."
But what makes Bednar a truly great coach — the best in franchise history?
***
Go back to the 2022 Stanley Cup Finals against the Lightning, Game 6 in Tampa, tied 1-1 in the second period, and peek inside the Avalanche timeout huddle. All eyes on Bednar. He's on the whiteboard drawing up Colorado's next move.
This is a staple of his leadership. He rarely hands the whiteboard to assistant coaches.
Bednar runs the show.
"In the moment, he's making plays and seeing what we need to do," Cogliano said. "Why he's able to do that is the amount of work that he puts in. He puts in a lot of work. He covers all areas of the game, and because of that, he's the guy who is going to be making the adjustments. That's cool.
"That's why I've really enjoyed playing here. He's a big part of that."
Bednar's style blends old school with new school. He's still the same blueliner who played in a combined 582 ECHL and AHL games, unafraid to drop the gloves, when necessary, with a blue-collar work ethic. Forward Mikko Rantanen chuckled: "I've seen him fight a few times on the (video) clips. He was a pretty tough guy back then."
Bednar evolved as a coach to meet the demands of a modern game.
"He's just a very bright hockey mind," forward Logan O'Connor said. "The changes he makes game in and game out, how he evaluates teams and pre-scouts teams, all those things go into account to give him the success that he's had."
The Avalanche staff embraced the use of analytics right around the time he was hired, Bednar said, and they've become an essential tool; using advanced statistics like Corsi, expected goals and high-danger chances to make critical adjustments. What started with one team analytics director, Arick Parnass, has grown to a team of three or four analytics specialists.
"You've got to look at the eye test and how you're playing. When you have challenges, you check on the numbers to make sure you're correct in your thinking," Bednar said. "It's just another tool that we use. Another avenue where we can identify things before they start hurting (us). Or strong areas of your game that you want to make sure you keep driving home. … They have a huge impact on our team success."
***
Evan Rodrigues signed a prove-it deal in Colorado last summer. A one-year contract to showcase that he's a top-six forward in the NHL deserving of a long-term deal. Much of his success would hinge on the relationship formed with his new coach.
What's Bednar like?
"He's very straightforward, but he doesn't raise his voice or yell at you. He treats you like an adult. Like a man," said Rodrigues, a first-line winger in his first Avs season, with 10 goals and 14 assists. "I think guys respect him because of that. When he says something to you, you take it in. He's trying to make you better and he's trying to make the team better. His demeanor is really refreshing. … That's why I think he gets the most out of his players and has won at every level."
Evidence of Bednar's strength in relationship building is found with Nathan MacKinnon, a relentless perfectionist with no whiff of discontent after 10 seasons in Colorado. It hasn't always been perfect. Like in January 2019, when MacKinnon exploded in frustration from the Avalanche bench during a game. Bednar calmed the storm to get the best out of MacKinnon. He's now signed to a massive contract that keeps him here through 2031, and MacKinnon described Bednar as "one of the guys in a way" when chatting with reporters Tuesday.
"He'll talk with you about other things than just the neutral zone forecheck," MacKinnon continued. "It's nice that he actually has a personality and that's he's a good person. He respects all of us and he definitely has our respect. … He knows when to push the buttons. When the hard on us and when to be positive."
Bednar is also firm in giving direction to players who need it most. Last season, when forward Alex Newhook got sent down to the AHL, he recalled blunt conversations with Bednar that laid the groundwork for his return to the team.
Newhook is now a top-six regular, having a career-best season with 10 goals and eight assists, an undeniable player development success story.
"The big part of any organization is trying to be transparent. They were with me when I got sent down," Newhook said. "Sometimes, it takes a little bit to know exactly what you need to play in the NHL."
***
The 2016-17 Avalanche season mercifully ended with 48 points — worst in the league — and Colorado's first-year coach figured he was toast.
"I thought there was a better than average chance that I would be let go," Bednar reflected after a Monday practice this week. "I'm fortunate to get the second chance."
The Avalanche rebuild was underway. Colorado improved its regular season win total from 22 to 43 the following season. The Avs made four playoff runs before finally winning it all last season.
"It's more a mindset and how we go about our business culturally," Bednar said. "I trust in that and believe in that. I do a lot of homework on that and study other coaches and their philosophies; and what works for us as a team. I talk to our leaders a lot about some of those things, especially coming into new seasons. … We're a solution-based business. If something isn't working, we're trying to find a solution."
Bednar is now faced with arguably his most challenging task: Getting an injured Avalanche team into the playoffs with plans for another deep run behind a healthy roster. Colorado is now riding a six-game winning streak.
"This year has been tough," Rantanen said. "He's maybe had to coach even more (out) of us and the younger guys. And he's been doing a good job. He adjusts really well for things and it's been good."
Bednar's coaching education never ends. His offseasons aren't all wild hog hunting. Bednar attends an annual coaches conference during the NHL draft each year that encourages the sharing of ideas and techniques. He's constantly evolving his coaching method to stay on top.
"We're pretty good at helping young coaches and inexperienced coaches get better," Bednar said. "You take a little bit from everyone that you come in contact with, good and bad, and try to learn from it."