A former hedge fund analyst commented that Nvidia was "either a fraud or 100% a short" yet billionaires continue to pile into this chip maker, why? We dived down the rabbit hole to find out.
Key Points
Nvidia is overvalued by traditional metrics, such as price-to-earnings and price-to-sales multiples but its growth rate is staggering, with 101% revenue growth year over year.
Billionaires are piling into Nvidia, with Susquehanna International, Renaissance Technologies, Two Sigma Advisers, Millennium Management, and Appaloosa all increasing their holdings in the past quarter.
The justification for Nvidia's current valuation is its growth potential but any mis-step by the company could lead to a sharp decline in its share price.
Up 191%, Nvidia Bolted Over Last 12 Months
The secret is long out on Nvidia. The share price had a monumental twelve months, rising by 191% at last count, though it's been even higher over the past month.
And yet by any rational measure of normality, the company is massively overvalued. Take for instance the company's price-to-earnings multiple, which sits at 110.2x, a level so high it's extremely rare to see massive market cap firms hit it, let alone a trillion dollar company as Nvidia is.
Then there's the price-to-sales multiple, which arguably is more revealing. At 34.8x sales, Nvidia is trading at a sky high valuation that is almost certainly unsustainable absent massive growth. To be clear, that multiple means Nvidia is generating "just" $26 billion in revenue but trading at a market cap of over $1.3 trillion.
If you had a small business and made $100,000 of sales, this would be akin to valuing your small business at $3.4 million. Nice if you can get it, but that's not how the real world works unfortunately for most small businesses. Yet it does seem to be the case for Nvidia. The primary reason being the company's growth rate is simply staggering.
Here are the stats:
101% revenue growth year over year.

Record gross margin at 70.1%, up 5.5% on last quarter.

$6.4 billion in operating cash flow, an increase of $2.9 billion versus last quarter.

Q3 guide $16bn rev vs $12.5bn consensus
And the forecasts are eye-popping: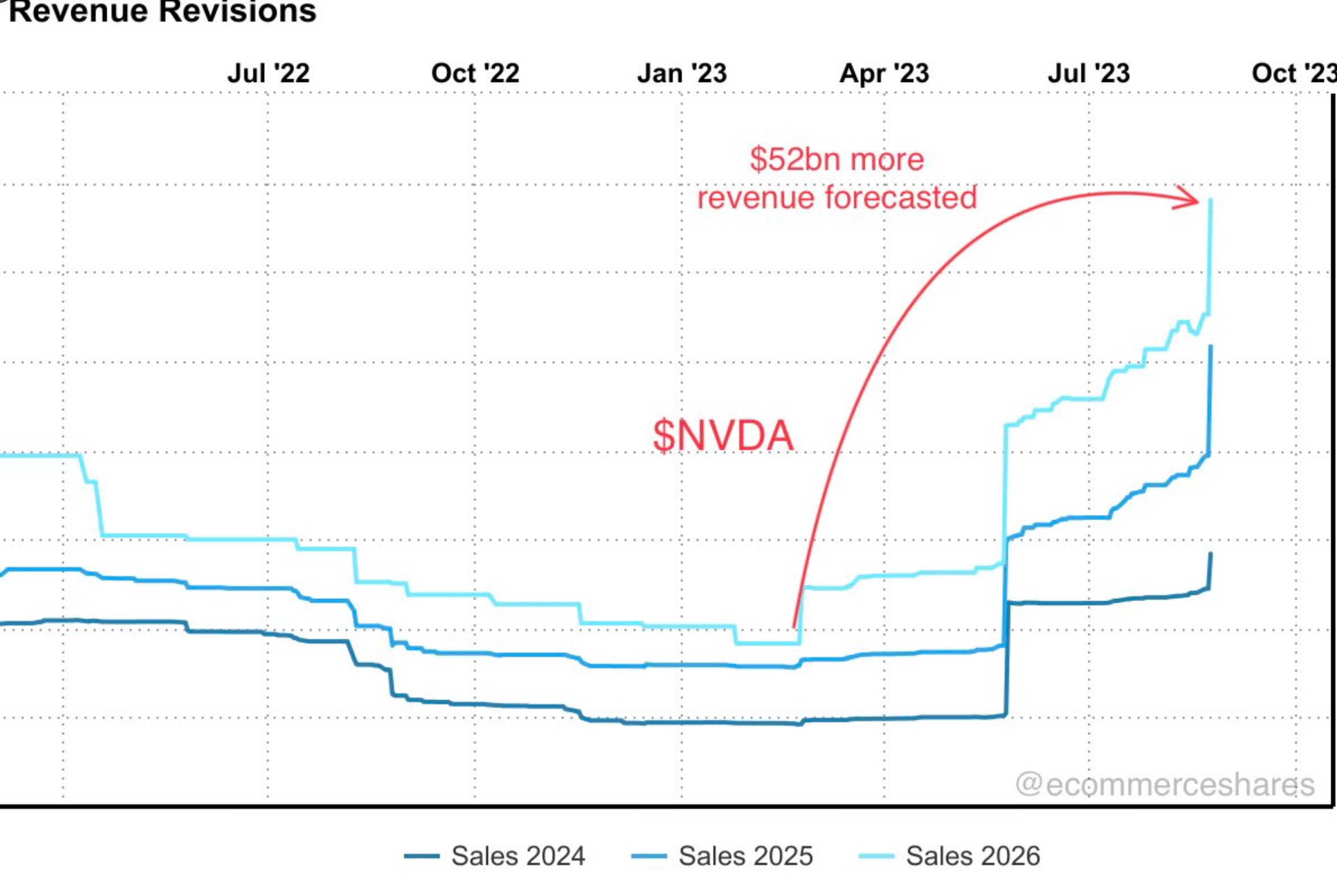 Credit: @ecommerceshares
At the start of the year, analysts forecasted fiscal year 2026 top line revenues of $38 billion. Now, a few quarters later they have predicted $90 billion. Even the current year figures are up by over 80%, from $29 billion to $49 billion.
Billionaires Go All In On Nvidia
One of the more surprising aspects of Nvidia's revenue spike is that the cost of goods didn't pop too. That's like having a lemonade stand and doubling your sales without having to spend more on lemons. Yet it hasn't mattered to billionaires; they are piling in en masse.
Susquehanna International snapped up over 5 million shares.
Renaissance Technologies bought 1.9 million shares.
Two Sigma Advisers acquired 1.6 million shares.
Millennium Management increased its holdings to more than $1 billion.
Appaloosa added almost 900,000 NVDA shares.
Those buying sprees took place just in the last quarter. Nvidia, which split its stock 4-for-1 a couple of years ago has been a poster child for buying stocks that split in the hopes they will return to former share price highs.
No doubt the billionaires who are buying Nvidia hand over fist understand the dangers of its current valuation, but perhaps they believe the growth is indeed going to materialize. It's the only justification for the current valuation multiples. Any mis-step by Nvidia would certainly lead to a fast drop otherwise.