Warren Buffett may be old but he's fearless when it comes to making massive bets. One such outsized investment is Apple, which now represents close to 50% of his equity portfolio (see below).
Imagine having so much conviction in a single company that you allocate half your money to it. Now further consider having a portfolio the size of Buffett's and making that same bet. It seems crazy by any measure of risk mitigation or traditional portfolio theory to bet so heavily on a single holdings, but it's worked. And there's a good reason why.
In its most quarterly earnings report, Apple reported its largest installed-base ever. That means Apple's ecosystem is expanding and at stands at its largest size ever. But in spite of its massive bet on Apple – you can see it dwarfs other holdings in his portfolio – there is one stock that Buffett favors even more.
Key Points
One of Warren Buffett's biggest bets is on Apple, which now represents close to 50% of his equity portfolio.
Buffett favors one stock even more than Apple – his own Berkshire Hathaway, which he's bought quarterly for almost 5 years.
As Buffett buys back shares of Berkshire, the company's EPS grows.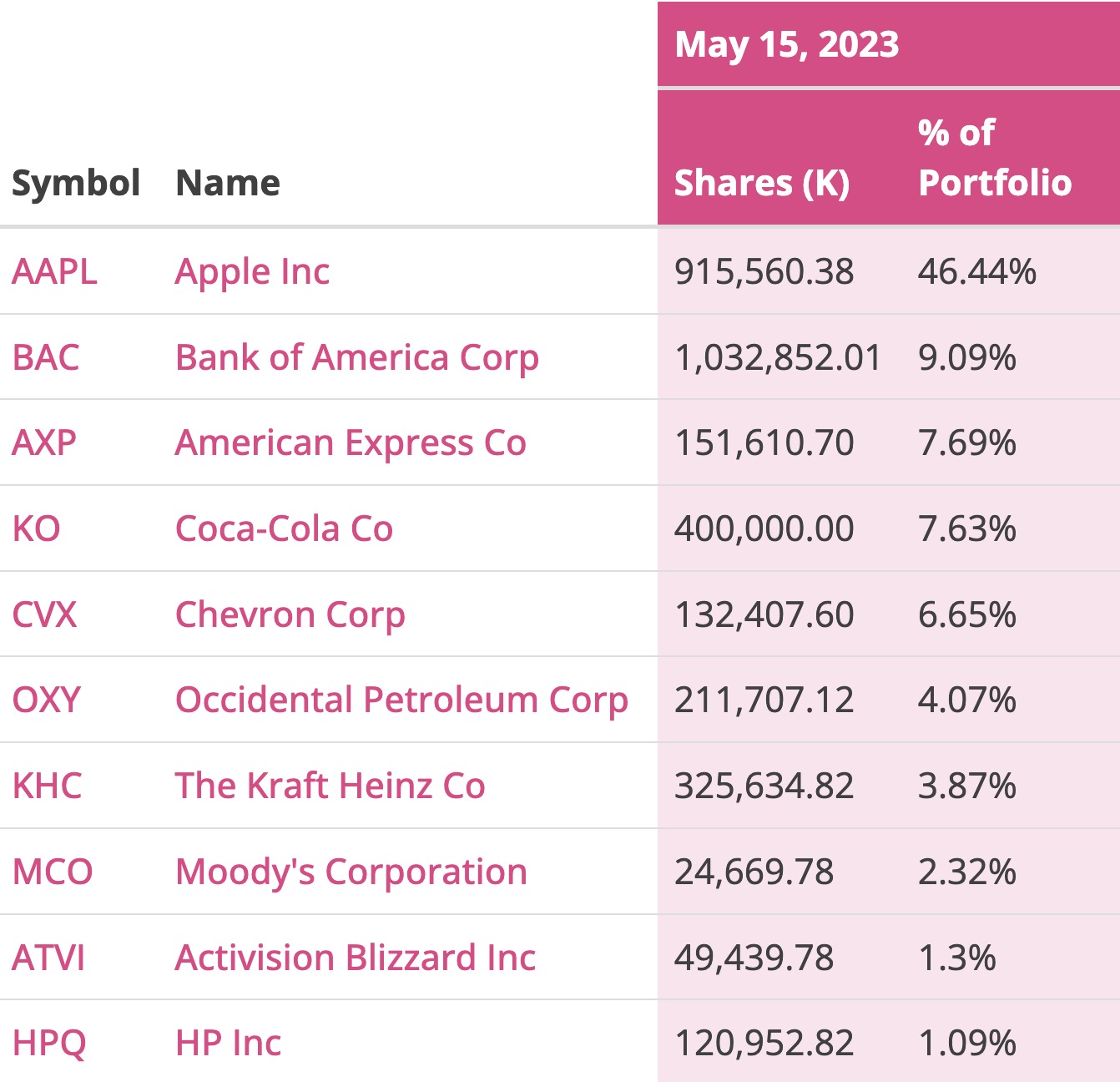 Buffett's Loading Up On 1 Stock
What stock is Buffett buying up in spades? His own Berkshire Hathaway.
Savvy investors spotted a tectonic shift in Berkshire's share buyback strategy 5 years ago. That's when Buffett and Munger proposed a resolution to allow them to buy back shares of Berkshire Hathaway if the company's balance sheet had at least $30 billion on hand, and they believed it was trading below its intrinsic value. This marked a delineation from the firm's previous policy to buy back stock if it traded at or below 120% of book value.
Once the policy was approved, Buffett and Munger went to work buying up shares of Berkshire each and every quarter over the past 5 years, well almost – if they buy next quarter it will mark 20 quarters straight of purchases.
But why would they want to buy up so much stock?
Why Is Buffett Buying Back Berkshire Shares?
When a company enacts a share buyback, the number of shares in existence reduces, which in turn means that the earnings per share increases.
Buffett has famously expressed a real preference for stocks that have share buybacks employed because without spending any more money himself, he earns more per share.
It's a long-term strategy where Buffett is a buyer for every Berkshire shareholder selling. And if history is a guide, selling when Buffett is buying is probably a bad deal. At the very least, over the long-term, the odds are he's going to get the better side of the trade.
For Berkshire shareholders, sticking with Buffett is the best play. For example, in 2022 when the market fell 20%, Berkshire ended in the black. That kind of relative outperformance is what has led to Berkshire's success for so long. Where the market has averaged around 10% annually, Berkshire has averaged close to 20%. It's hard to bet against a half century plus of market-beating gains.