Oliver Kell is a US Champion Trader who returned an audited 941.1% a few years ago in competition, blowing away all others in the field.
A return so astronomical cannot be done with luck. While any given trade can produce such a return through luck – for example, buying options prior to earnings and getting the direction right – an annual performance of 941.1% encompassing dozens, if not hundreds, of trades can only stem from a system that is proven and repeatable.
So how do you find the secrets to success? Oliver has shared them in his book, and has released some gems for free to the public which we shine a light on below.
Key Points
When price extends far from the 10 week EMA, a continued uptrend may be unsustainable.
The time to sell a stock is often on a second extension from the 10-EMA.
By the time a third extension comes, the odds of the stock re-basing is high.
When To Sell?
Buying is one thing, but when should you sell? Oliver has shared his rules of thumb for when a stock may be in a topping process or experiencing a blow-off top.
When the price extends from the 10-EMA to an unsustainable level, Oliver says that's a signal a near-term high may be in place. Moreover, the longer the duration of a bullish trend, and the more extensions from the 10-day EMA, the higher the odds that the stock will start to form a new base soon.
So, when precisely do you sell and take profits?
Oliver suggests the second extension from the 10-EMA is the time to lock in gains. If a third extension does occur, it's probably late in the game in the intermediate trend.
Of course, even champion traders can't always sell the top and buy the bottom, and that was the case with Oliver's recent trades on SMCI and UPST, both of which had massive upside moves. He says that in both cases he sold them about 10-15% too soon. But that's trading for you, you won't always nail the top.
Sticking to the rules and locking in a 941.1% return, however, is nothing to sneeze at.  By not following the rules, you can see what happened to bulls who held onto UPST for too long; they got burned viciously as the price got cut in half in a matter of days.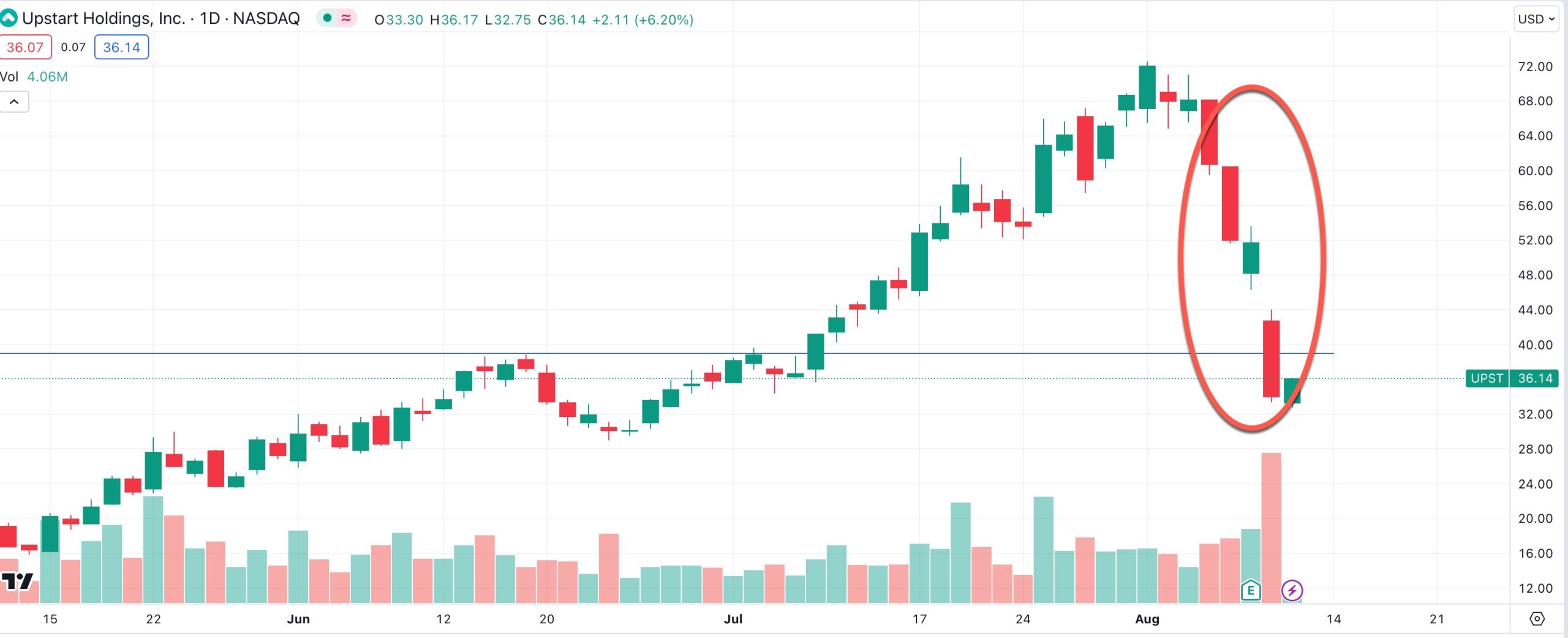 For those of you would like to hear Oliver discuss his rules on when to sell, here's a snippet:
Good video RE-watching myself. I had UPST and SMCI. Sold them both about 10-15% too soon but based on weekly 2nd extension concept. https://t.co/deJO93nSau

— Oliver Kell (@1charts6) August 10, 2023