The Chinese found out long ago that linearity in all things is a mirage. Whether it is stock markets rising and falling or emotions going up and down, nothing stays the same for long. Life is cyclical, and undulating; from waves of light to the solar system's planets.
When you internalize that concept, you will be less likely to chase a stock on a run, because you know at some point it will fall back to earth after its moonshot.
Similarly, you can spot patterns in sentiment, when bulls run out of steam and all their ammo is used up buying, naturally share prices will fall – how could they not when only sellers remain?
That appears to be the situation now if you believe the S&P 500 Bullish Percent Index.
Key Points
The S&P 500 Bullish Percent Index has fallen below 70, which since early 2022 has been an early warning signal that markets are due for a correction.
Extremes in sentiment are often accompanied by trend reversals. If history repeats, expect the S&P 500 to be weaker in the coming months.
While every indicator has it's time in the spotlight, none should be viewed as the gold standard that will work all of the time. 
A Sell Signal Flashes RED
Take a look at this chart of the S&P 500 Bullish Percent Index versus the S&P 500. Over the last couple of years, each time without fail that the index has fallen from above the 70% level to below it, the stock market has fallen.
Literally all five times since early 2022, the S&P 500 took a tumble when this signal flashed sell. And now, in August, we see it warn yet again that a correction may be on the horizon.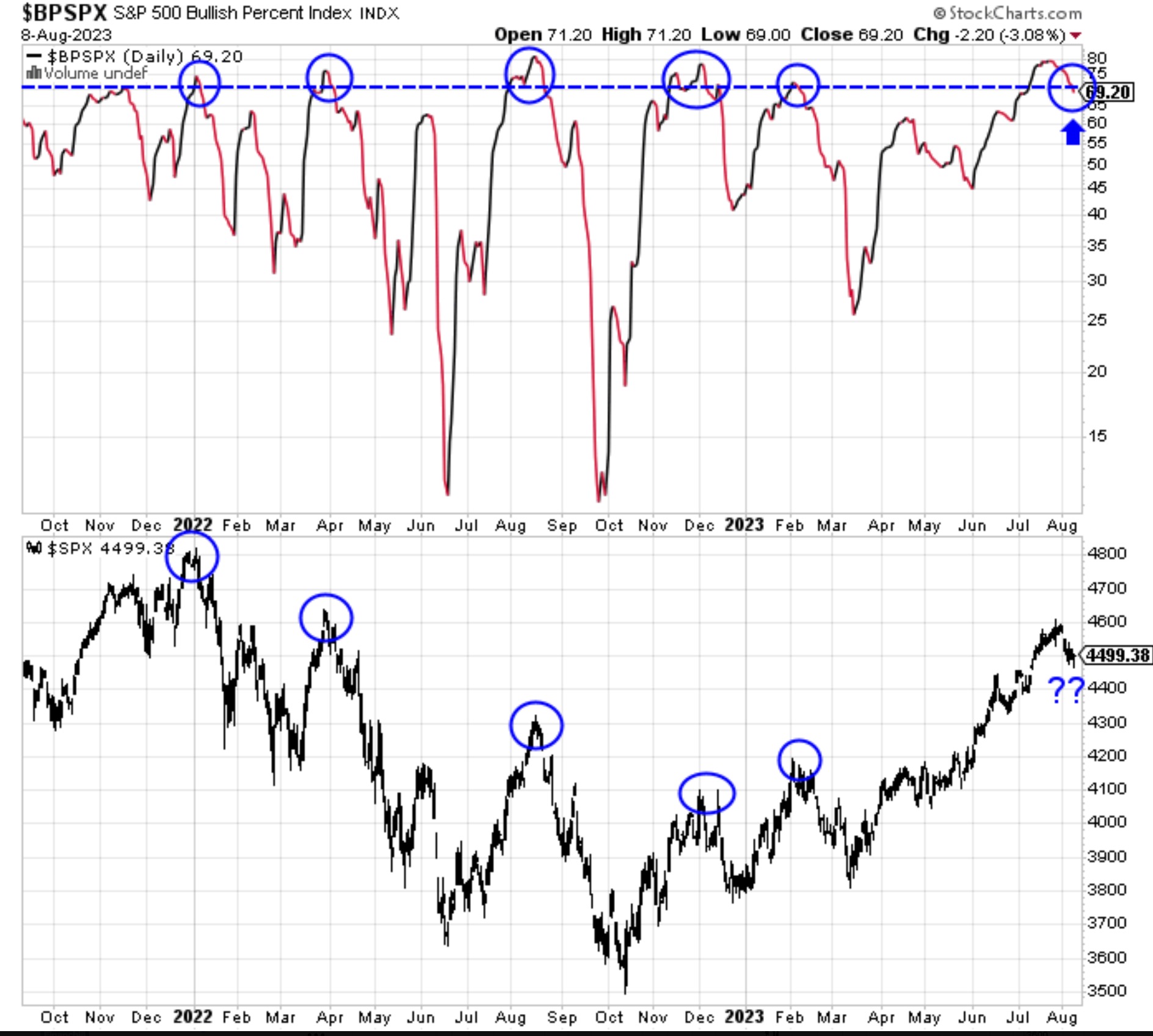 Credit: Wade Sickler
Time To Sell Everything?
While the S&P 500 Bullish Percent Index has an excellent track record over the past (almost) two years of triggering sell signals prior to market meltdowns, no single indicator has a proven track record of winning 100% of the time. So while betting the farm in any direction based on one indicator is not wise, it is smart to respect where the pressure sits in the market, and right now it's downward.
If you're investing for the long-term, selling stocks may not be the smartest move because of the tax consequences. An alternative is to sell call options against those stocks, and lower overall cost basis while generating some passive income should share prices take a tumble.